Serving the nation's 38th largest city, Donation Movers LLC finds gratitude in being part of Mesa's rich history and vibrant culture. Being the third largest city in Arizona and just fifteen miles east of Phoenix, residents of this east valley city experience the advantages of big city in a suburban setting.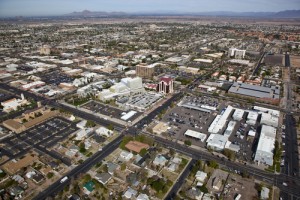 The city of Mesa offers a dynamic mix of attractions and amenities, from golf courses and recreational parks to sports facilities, museums, and arts & cultural centers. Some of the east valley city's landmarks include: The Chicago Cubs Spring Training baseball facility, The LDS Arizona Temple, Golfland Sunsplash Water Park, the Mesa Arts Center, the Mesa Historical Museum, Mesa Community College and the local Valley favorite Salt River Tubing & Recreation.
This thriving city isn't far from some of the great outdoor recreational areas of the Superstition Mountain Range and the Tonto National Forest. The Tonto National Forest is home to Roosevelt Lake and Dam, both named after the nation's 26th president. On the cliffs above Roosevelt Lake is the Tonto National Monument. The Superstition Mountains are home to Apache Lake and the famous Lost Dutchman State Park, which is home to hiking, biking and equestrian trails as well as local legends and folklore.
Mesa's first residents included the Hohokam Indians, who settled in the desert nearly 200 years ago. The Hohokam built extensive canal systems, some of which are still elemental to the modern canal systems running through Mesa today.
It wasn't until the 1880's that the region became a safe frontier to which early American settlers could travel.  Daniel Webster Jones of the Church of Latter-day Saints was among the first to settle in this region and the LDS influence is still strong in Mesa today.
Donation Movers LLC is happy to be a part of this east valley city's history. With over twenty years of experience, Donation Movers LLC continues to help customers to move and relocate. A company that values loyalty and promotes a strong sense of community, Donation Movers LLC has played its part in Mesa's growth and development. Those same values have given Donation Movers LLC a strong reputation, and keep them the choice for Mesa residents. Call us today! 480.529.9586