Donation Movers LLC, is proud to be the choice moving company for the city of Lake Havasu, Arizona. Donation Movers LLC is known statewide for providing the most efficient and reliable moves in the state.
The city of Lake Havasu began as an Army rest camp during World War II. In 1963, the city was established as a planned community by Robert P. McCulloch.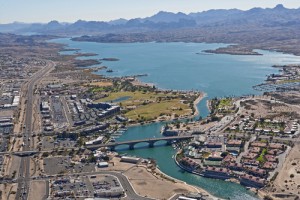 In 1968, the US purchased the London Bridge from the City of London for 2.5 million dollars. The bridge was disassembled and shipped to Lake Havasu and is now located on a long canal between Lake Havasu and the Thompson Bay. The London Bridge is the second most visited site in Arizona next to the Grand Canyon.
Lake Havasu is also known around the country as an ultimate spring break spot. Lake Havasu was featured on MTV'S Spring Break, where students from around the world come to party and partake in outdoor adventures. The city is also home to the International World Jet Ski Races, fishing championships and the Havasu 95 Speedway.
Coined "Arizona's Playground" Lake Havasu boasts 300 days of sunshine per year and is considered a family friendly vacation spot.
With over twenty years of experience, Donation Movers LLC has been serving the residents of Lake Havasu by providing loyal and honest services. Whether moving or relocating within the Lake Havasu area, Donation Movers LLC will be there to provide the best moving services in the state. Call Today! 480.529.9586